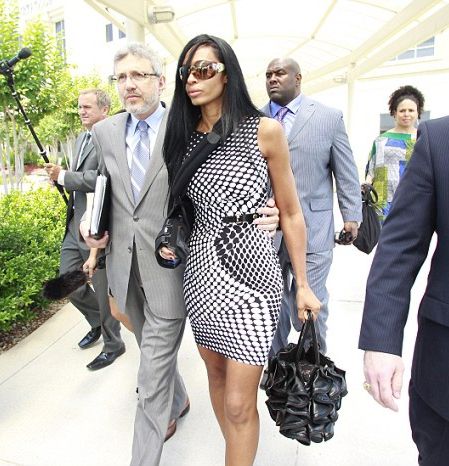 Pilar Sanders & estranged hubby Deion made their way to the Collin County courthouse Monday in Dallas.  And the outcome wasn't in favor of Pilar.  Details inside on Deion getting temporary custody of the kids after their big fight night.
With her arm in a sling and rocking a body-con black & white dress, Pilar Sanders played the sympathy card (but maybe rightfully so) for her court date with Deion Sanders yesterday.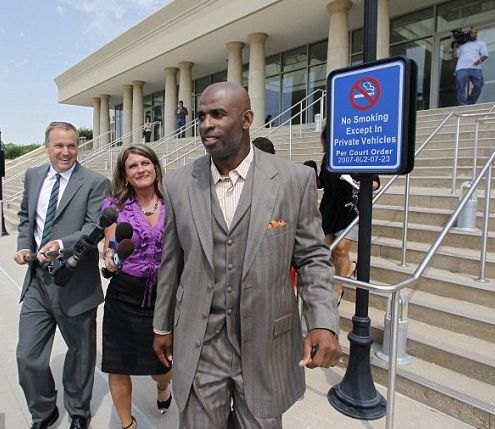 Though both parties were charged with domestic assault after their recent blowout inside their Dallas mansion, the tables are currently turned in favor of Deion.
After 3 days of hearings, State District Judge Ray Wheless gave Hall of Famer Deion temporary custody of the couple's children pending a full custody hearing, and ordered that the children undergo psychological counseling.  Wheless also ruled that the injuries to Pilar were a result of Deion defending himself from her assault.
Pilar must remain at least 500 yards from the mansion.  The most interesting part of all this, the police detective on the scene says that swollen lip we saw in Pilar's mugshot likely came from her biting it herself.
Be sure to tune into the Midday's weekly 10am-3pm with RoDigga!
Deion Sanders Wins Temporary Custody Of The Kids  was originally published on zhiphopcleveland.com